SKU:1-NE REP Crm 40
Brand:NOVEXPERT
Novexpert The Repulp Cream 40ml

Made in France


PRODUCT STORY
At first, The Repulp Cream was developped to be a post-injection care.
Indeed, several studies showed that the application of a high-concentrated hyaluronic cream after an injection, increases and extends its result. Cream and needle bring hyaluronic acid of different densities, that is why they have a complementary mode of action.
But seeing the great success of this care among our team in particular, we decided to make it available for all !
PROPERTIES & GUARANTEE
Immediate REPULP *: Two pure hyaluronic acids fill in lines from within.
Increased FIRMNESS in 21 days*: Ultra-effective seaweed, combined with commiphora, stimulates collagen and adipocytes for spectacular anti-slackening skin results
* Use test among 50 consumers over a 28 day period.
The 1st anti-aging care guaranteed and certified:
0% chemical, 0% preservatives
and 100% hypoallergenic.
DESCRIPTION
Packaging: 40 ml high-precision tip tube.
Product formulated, developed, made and assembled in France
PRESCRIPTION
Age & Skin type: From 30 years - unisex. For all skin types.
Dermatological profile: Face with muscle wasting, face with hypodermis atrophy, face with dermal-epidermal junction flattening, skin slackening, thin oval of the face and thin skin.
Way of life: fatigue, slimming diet, smoker.
ACTIVE & INGREDIENTS
For more information about the ingredients of this formula, click on this link to reach the product INCI list.
ANTI-WRINKLE ACTION
Novaxyline algae (patented):
- Anti-free radicals
- Genetic sirtuins stimulation
REPULP ACTION (surface)
Hyaluronic acid:
- On the surface repulp action
REPULP ACTION (depth)
Fragmented hyaluronic acid:
- In-depth repulp action
Green algae extract
- Stimulates collagens III, IV & VII and hyaluronic acid
Apple seeds extract:
- Stimulates collagens I & III and fibronectin
Commiphora extract:
- Stimulates adipocytes
OTHER ACTIONS
Pomegranate extract:
- Anti-free radicals
Polysaccharides (biotech sugar):
- Moisturizing
Sunflower oil:
- Nourishing
Shea butter:
- Nourishing
Red algae extract:
- Smoothing
Vegetal glycerin:
- Moisturizing
Aloe vera gel:
- Soothing
Green tea extract:
- Anti-free radicals
Broccoli extract:
- Photoaging protection
EXPERT ADVICES
Apply small dabs on the entire face and neck and massage into skin, using upward circular strokes.
Renew application morning and/or night. Only a small amount of product is needed.
Before makeup, let it penetrate your skin for 5 minutes.
You must have placed a minimum order amount based on the 100% HB$ redemption value within 30 days before you wish to order for the 100% HB$ deals. Check out the pre-order amount and View 100% HB$ T & C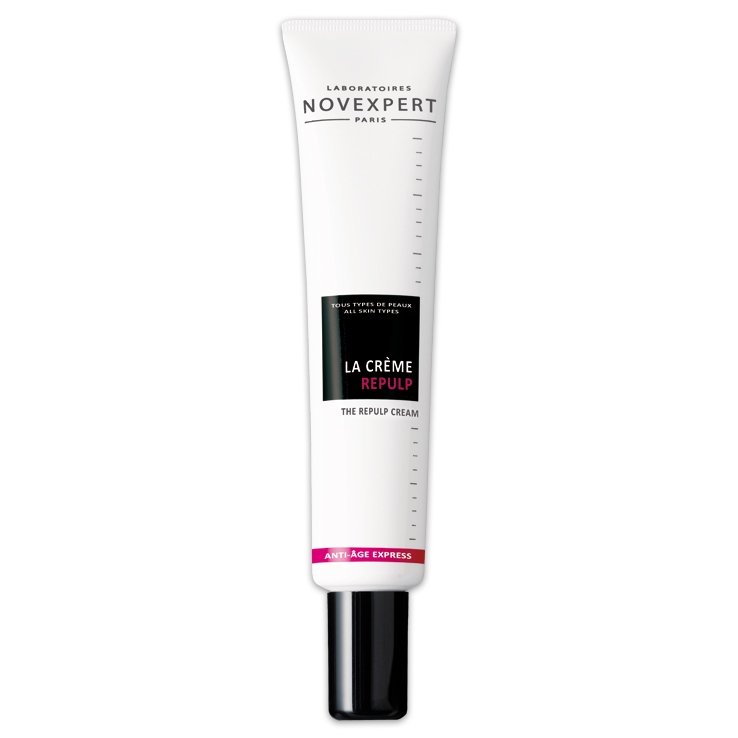 View 100% HB$ Deals terms & conditions
100% Good
Total 0 persons submitted
Excellent(100%)
Good(0%)
Poor(0%)
You can submit review too.
PriceUS$54.95 Novexpert The Repulp Cream 40ml Sales Discount Shopping.