SKU:1-NE REP Msk 50
Brand:NOVEXPERT
Novexpert The Repulp Mask 50ml
Made in France
PRODUCT STORY
More than 70% of skin aging is due to the environment: stress, sun, dry climate, sea water, tobacco... All these traumatic events for the skin can let traces if nothing is done. In consequence, the efficacity of The Repulp Mask was tested by professionals of extreme situation: mountaineers, surfers… It is now recommanded by lots of coaches in several sport federation !
PROPERTIES & GUARANTEE
Instant REPLUMP effect *: Ultra-high concentration of two pure hyaluronic acids with immediate "lipo-filling" action.
Immediate skin NUTRITION *: The essential protection for stressed skin: subject to cold, sun, pollution, dryness, etc. A truly amazing skin care that restores comfort to the skin.
* Use test among 50 consumers over a 14 days period.
The 1st anti-aging care guaranteed and certified:
0% chemical, 0% preservatives
and 100% hypoallergenic.
DESCRIPTION
Packaging: 50 ml tube.
Product formulated, developed, made and assembled in France.
PRESCRIPTION
Age & Skin type: From 30 years - unisex. For normal to dry skin.
Dermatological profile: Dry skin, reactive skin, face that shows signs, thin ovale of the face and thin skin (lipofilling).
Way of life: Arid or alpin climate, sea or swimming pool bathing, after-sun, sunburns.
ACTIVE & INGREDIENTS
For more information about the ingredients of this formula, click on this link to reach the product INCI list.
ANTI-AGING ACTION
Novaxyline algae (patented):
- Anti-inflammatory
- Anti-free radicals
- Genetic sirtuins stimulation
REPULP ACTION (Surface)
Hyaluronic acid:
- On the surface repulp action
Trehalose:
- Moisturizing within cells
REPULP ACTION (Depth)
Fragmented hyaluronic acid:
- In-depth repulp action
REPULP ACTION
Commiphora extract:
- Stimulates adipocytes
OTHER ACTIONS
Pomegranate extract:
- Anti-free radicals
Vitamin E complex:
- Anti-free radicals
Tea extract:
- Anti-free radicals
Sunflower oil:
- Nourishing
Evening primrose oil:
- Nourishing
Shea butter:
- Nourishing
Garcinia butter:
- Nourishing
Vegetal glycerin:
- Moisturizing
Aloe vera gel:
- Soothing
Broccoli extract:
- Photoaging protection
Milk thistle extract:
- Photoaging protection
EXPERT ADVICES
Apply a thick layer of mask to thoroughly cleansed and dry face, neck and décolleté (if needed).
To adapt the level of nutrients required for your skin, leave on for: - 10 minutes for normal to combination skin - 15 minutes for dry to very dry skin
Remove mask with a damp cotton pad or sponge pad or sponge and/or rince abundantly with lukewarm water.
Use twice a week for optimal results.
This mask may also be used after exposure to the sun, cold weather, wind and after exercising, as often as needed.
You must have placed a minimum order amount based on the 100% HB$ redemption value within 30 days before you wish to order for the 100% HB$ deals. Check out the pre-order amount and View 100% HB$ T & C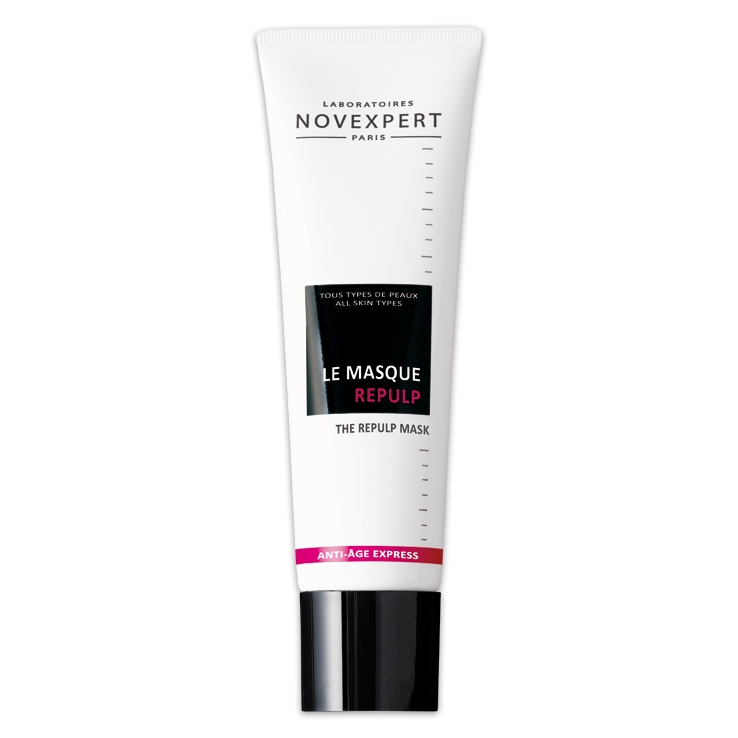 View 100% HB$ Deals terms & conditions
100% Good
Total 0 persons submitted
Excellent(100%)
Good(0%)
Poor(0%)
You can submit review too.
PriceUS$39.95 Novexpert The Repulp Mask 50ml Sales Discount Shopping.