SKU:1-TruD TG 15+2s
Brand:TruDtox
Flatter tummy… in just 20 days!*
Whether you are aiming to look good for an upcoming event or get that body you always wanted, the 20-Day TruFit challenge using TruDtox ThermoG provides a safe, quick and easy way to a shapely you. Combined with exercise, plenty of water & healthy eating, TruDtox will have you feeling energised & invigorated while complementing your hard earned effort to achieve a healthy lifestyle.
For the 20-day challenge, you will need 10 teabags (sachets). Take one teabag every alternate night over 20 days.
*results may vary from individual to individual.
What is TruDtox ThermoG?
TruDtox ThermoG is a 100% natural tea blended from quality herbs and floras with added de-caffeinated green tea, formulated to help you detox and reduce excess fat.
TruDtox ThermoG Ingredients:
Green Tea (decaffeinated); Peppermint Leaves; Rosehip; Chamomile Flower; Orange Peel; Marshmallow Root; Buckthorn Bark; Bearberry.
How does TruDtox ThermoG work?
• Burns Tummy Fat
• Flushes Out Toxins
• Strengthens Digestive System
How is TruDtox taken?
• Brew in freshly boiled water for 10-15 minutes
• Brew longer for a stronger tea
• Upon completion of a 20-day programme, take a break before repeating, or drink as and when needed.
When should I drink TruDtox?
TruDtox will only take effect a few hours after consumption. Therefore, consuming it before bed will help you with a morning flush*. (*Results may vary from individual to individual).
Precaution:
TruDtox tea should not be taken by pregnant women, nursing mothers, or those under 18 years of age. If TruDtox may be unsuitable for you due to any pre-existing condition, please consult your doctor before consumption. TruDtox should not replace a healthy diet or exercise!
For more information, got to www.trudtox.com
You must have placed a minimum order amount based on the 100% HB$ redemption value within 30 days before you wish to order for the 100% HB$ deals. Check out the pre-order amount and View 100% HB$ T & C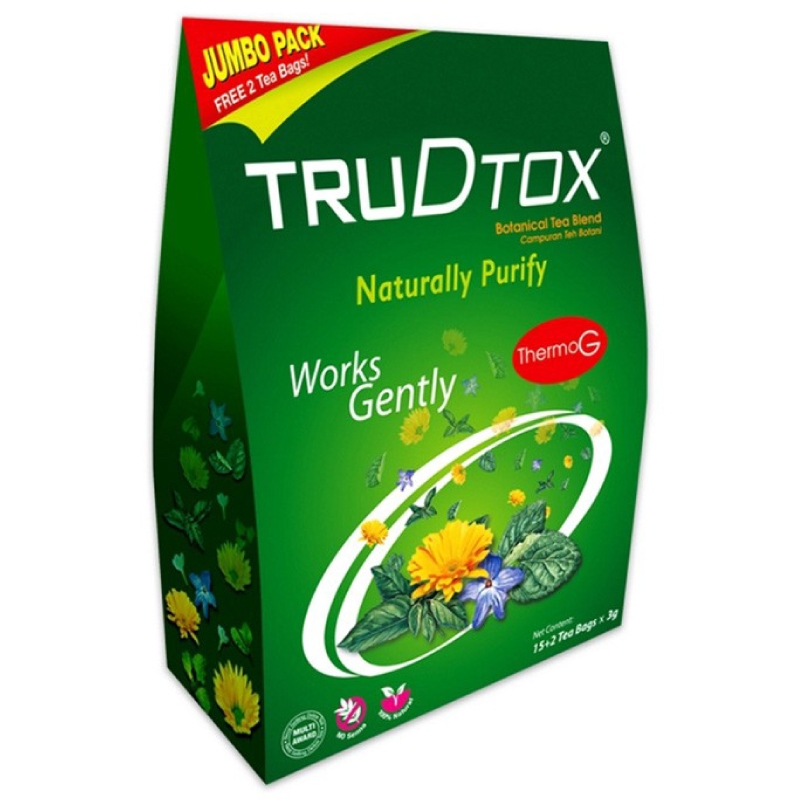 View 100% HB$ Deals terms & conditions
100% Good
Total 0 persons submitted
Excellent(100%)
Good(0%)
Poor(0%)
You can submit review too.
PriceUS$23.95 TruDtox ThermoG Detox & Slimming Tea - 15+2 teabag Sales Discount Shopping.