Lodge 10.25 inches Cast Iron Skillet
SKU: L8SK3
Lodge 10.25 Inch Seasoned Cast Iron.
Skillet with assist handle.Hailed as an essential kitchen tool by the country's leading chefs and publications, the Lodge 10.25 inch cast iron skillet is crafted to cook memorable meals for generations.
Features
· Seasoned with oil for a natural, easy-release finish that improves with use
· Easy care: hand wash, dry, rub with cooking oil
· The right tool to sear, sauté, bake, broil, braise, fry or grill
· At home in the oven, on the stove, on the grill or over the campfire
· Great for induction cooktops
· Brutally tough for decades of cooking
· Unparalleled in heat retention and even heating
Foundry seasoned cast iron.
Full color flap label, in English, Spanish andFrench.
Made in the USA.
Elasti-tag.
The Lodge seasoned cast iron cover (L8IC3) and tempered glass cover (GL10) fit this skillet.
The following use and care instructions for Lodge Seasoned Cast Iron will help your cookware last a lifetime.

If you do Nothing Else...
Hand wash. Dry immediately—even before first use.

Rub with a light coat of vegetable oil after every wash.

How much oil? Enough to restore the sheen, without being "sticky".

Why? To keep the iron "seasoned" and protected from moisture.

Seasoning—It isn't Salt and Pepper
"Seasoning" is vegetable oil baked onto the iron at a high temperature: not a chemical non-stick coating.
Seasoning creates the natural, easy-release properties. The more you cook, the better it gets.
Because you create, maintain, and even repair the "seasoning", your cookware can last 100 years or more. Chemical non-stick coating cannot be repaired, limiting lifespan.
Let's Cook!
Lodge Cast Iron is right at home on induction, ceramic, electric and gas cooktops, in your oven, on the grill, or even over the campfire. Do not use in the microwave. (Some induction tops will not work with 2-burner griddles)
On glass or ceramic cooktops, lift cookware; never slide it.
Our cookware is safe at high temperatures; use metal, wood, or hi-temp silicone utensils.
Some foods may stick to new cookware (especially eggs). Use a little extra oil or butter until you've built up the seasoning.
Acidic foods like tomatoes, beans, and certain sauces can damage seasoning, and should be avoided until the seasoning is well-established.
Cast Iron rarely needs to go above a medium heat setting when properly pre-heated. For the times when you do cook at higher temperatures, bring the pan to temperature gradually and add oil to just before adding food to prevent sticking.
Our handles get hot; use mitts. Use trivets to protect countertops from hot cookware.
To Soap or not to Soap...
If no soap is too scary, wash with mild soapy water and dry and oil immediately. However, consider that cookware is 400ºF in 4 minutes on medium heat and is sterile at 212º F, so soap isn't always necessary.
Dishwashers, strong detergents and metal scouring pads are not recommended, as they remove seasoning.
Rust?! Don't Panic, it's not Broken
Without protective seasoning iron can rust.
It's really easy to fix. Scour the rust, rinse, dry, and rub with a little vegetable oil.
If problem persists, you will need to thoroughly remove all rust and follow our re-seasoning instructions (below).
Refurbish Your Finish
While maintaining the seasoning should keep your Cast Iron and Carbon Steel in good condition, at some point you may need to re-season your cookware. If food sticks to the surface, or you notice a dull, gray color, repeat the seasoning process:
* Wash the cookware with hot, soapy water and a stiff brush. (It is okay to use soap this time because you are preparing to re-season the cookware).
* Rinse and dry completely.
* Apply a very thin, even coating of MELTED solid vegetable shortening (or cooking oil of your choice) to the cookware inside and out. Too much oil will result in a sticky finish.
* Place aluminum foil on the bottom rack of the oven (not directly on bottom) to catch any drips.
* Set oven temperature to 350 – 400 degrees F.
* Place cookware upside down on the top rack of the oven to prevent pooling.
* Bake the cookware for at least one hour. After the hour, turn the oven off and let the cookware cool in the oven.
* Store the cookware uncovered, in a dry place when cooled.
* Repeat as necessary.
Some Basics
Gas flames should not extend up the sides of cookware.
Match pan size to burner size.
Don't use in the microwave.
When deep frying, fill cookware only to 1/3 of capacity.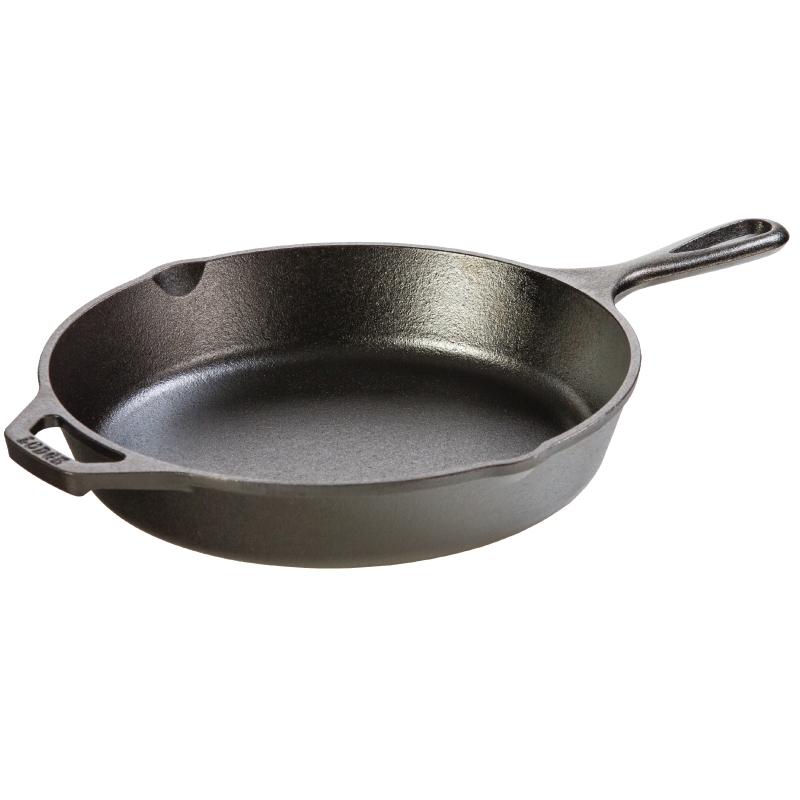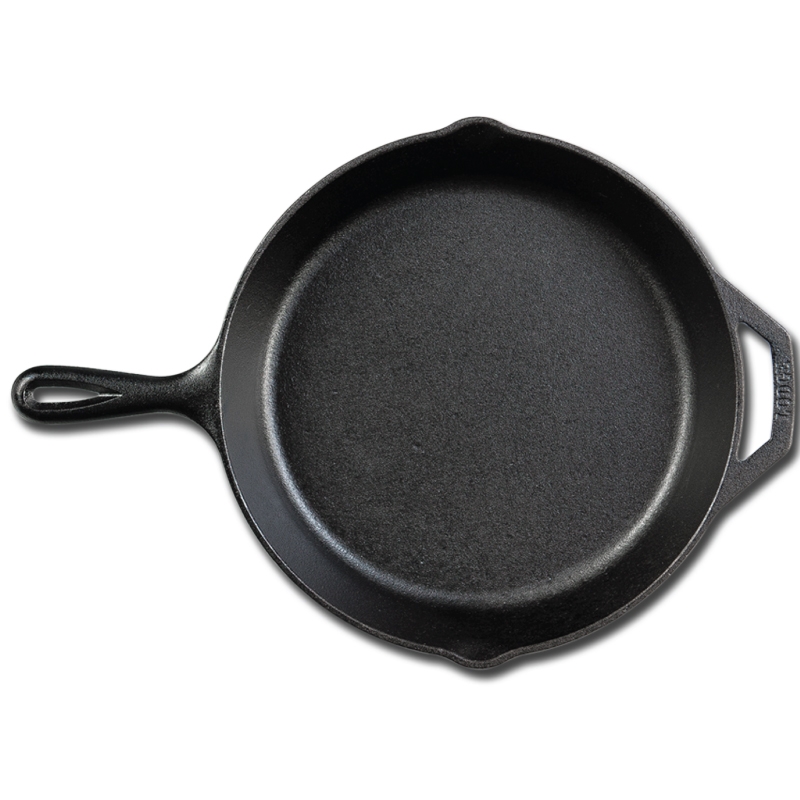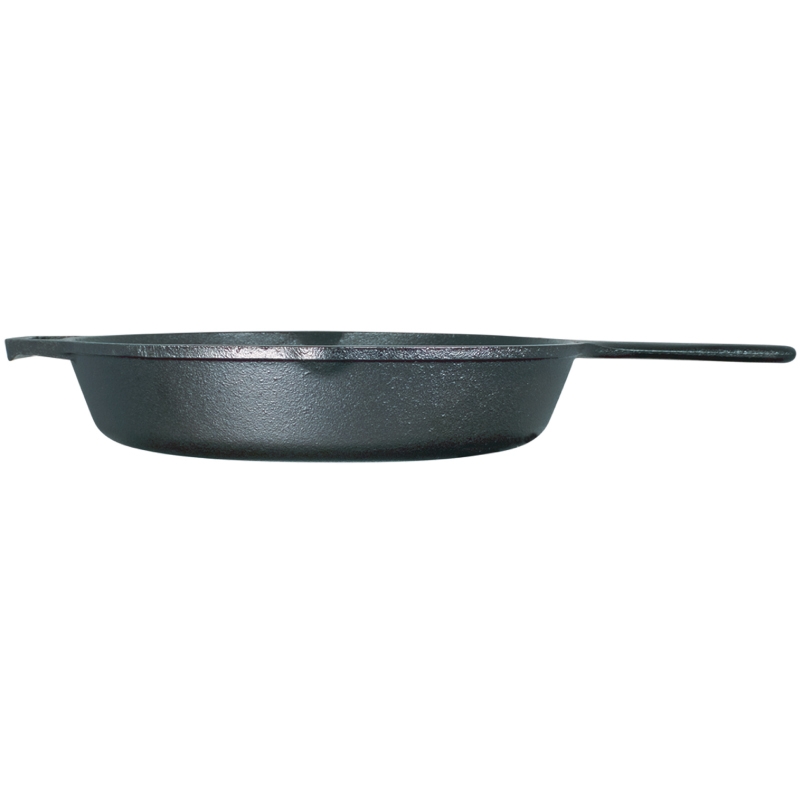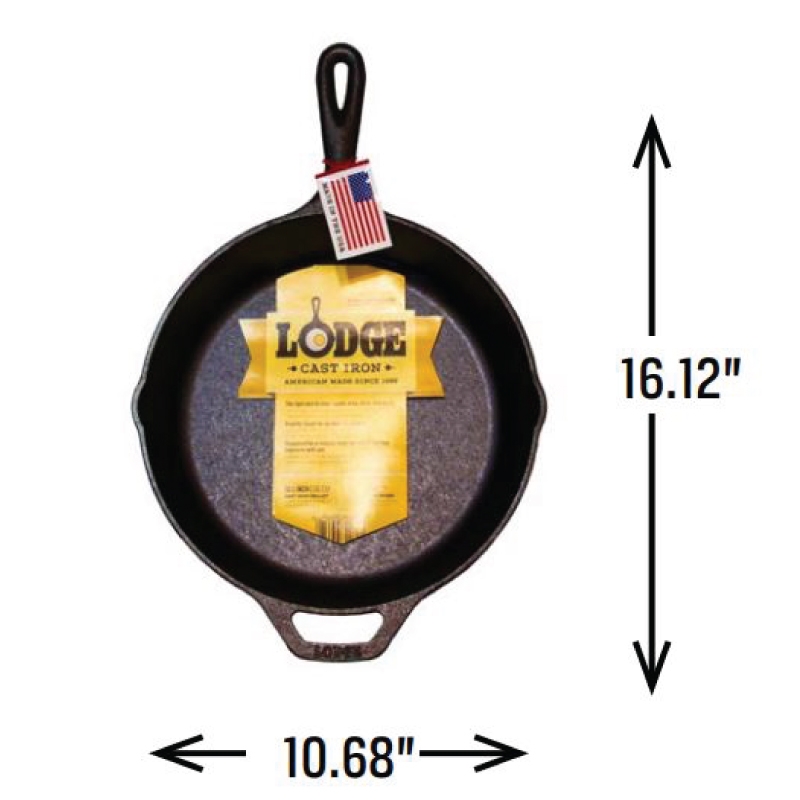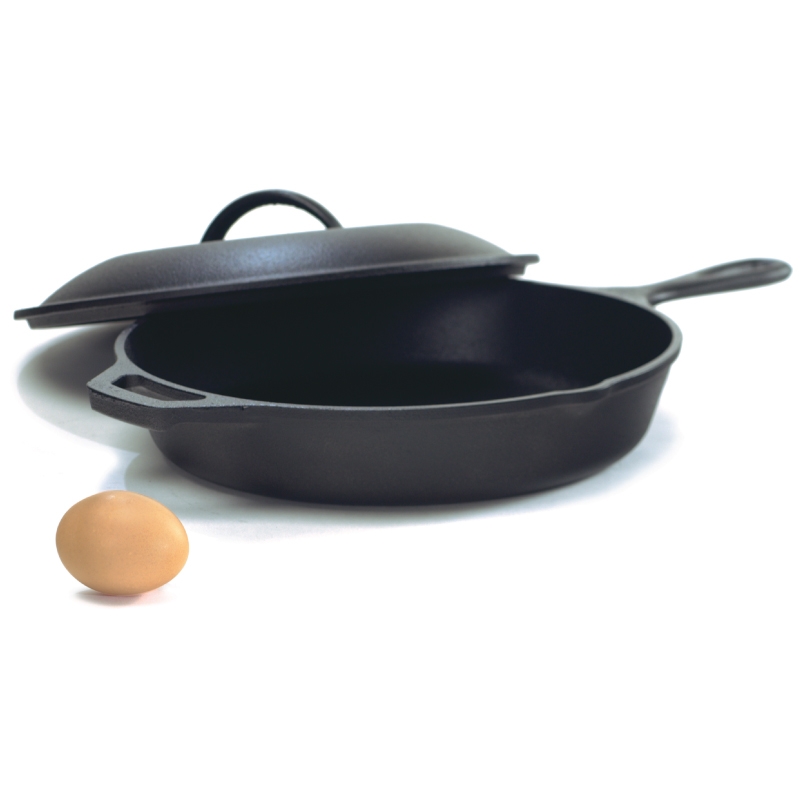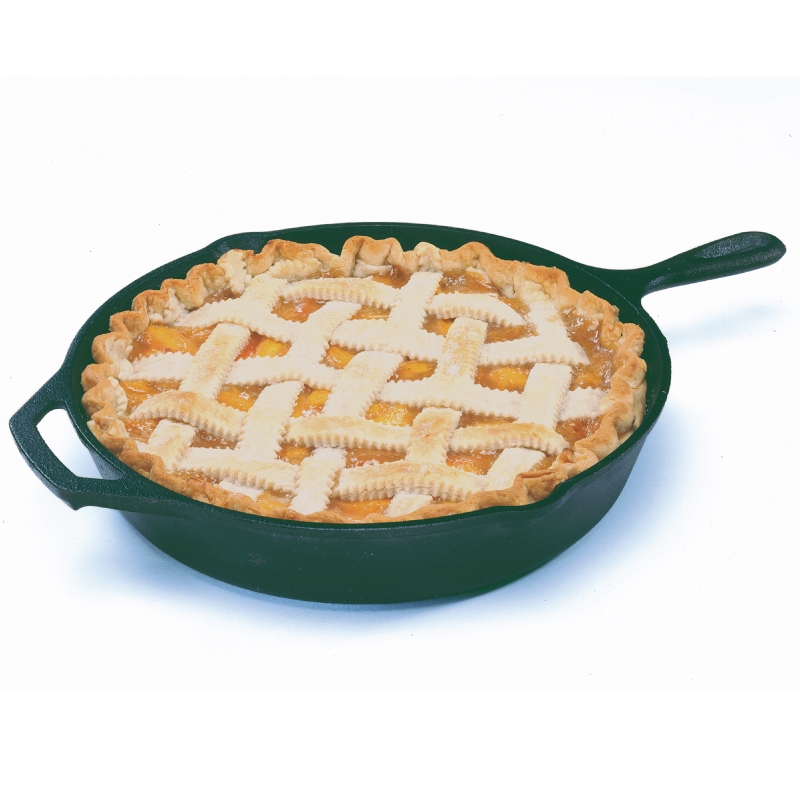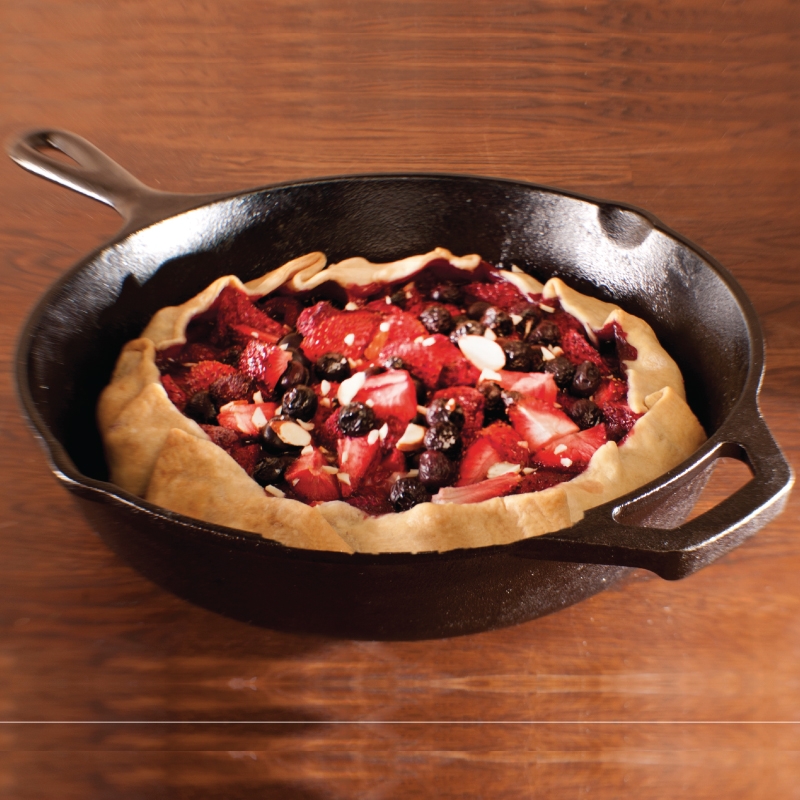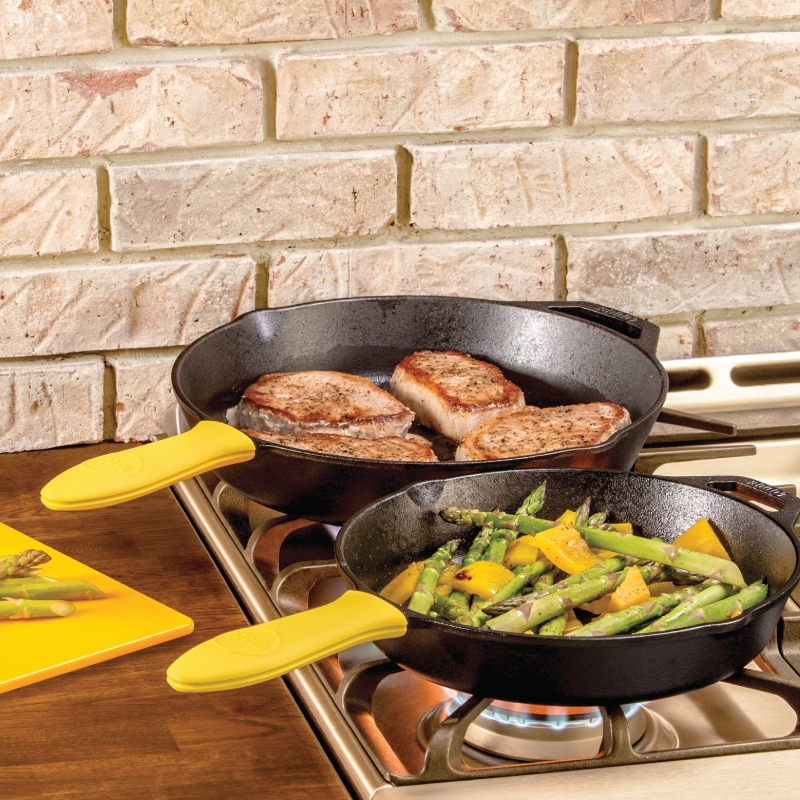 Reviews
Saturday, August 8, 2015


Great product, but allow me to offer a cautionary warning … if you use this skillet on a glass top stove, absolutely follow the instructions of lifting the skillet rather than sliding it. I made the mistake of not doing this and scratched my wife's stove top. To prevent future problems, I took the skillet to my work bench and turned the skillet upside down and sanded down the rough casting nubbins with a random orbital sander. I started out with a course sanding disk of 80 grit and worked up to a 220 grit. I finished up with a 400 wet/dry sandpaper to build up a slurry mix and wiped it with a paper towel between each sanding. I then turned the skillet back over and repeated the process on the top side of the bottom (the cooking side). Next step was to thoroughly wash, dry, and apply a thin coat of lard to the entire skillet and bake it in the oven at 350 degrees for an hour. This re-seasoned the surfaces. The final proof was to cook up some eggs and sausage. Wow … it was like magic. No scratching the stove glass top, no eggs sticking, even heating, nice browning, and brought back the fun of cooking. I echo the recommendation of a previous poster … the folks at Lodge need to take their casting process another step and offer a smooth casting rather than the pebble-nubbin finish. Being made in the USA is a real plus.

Wednesday, August 5, 2015


I have the Lodge L8SK3 and use it a lot. The factory coating is ok. I seasoned it using CRISCO in the oven for a couple hours at 450 F. This coating works very well. I also have 5 dutch ovens, more frying pans, muffin tins, a wok, a bread pan, and a hibachi gril - all from Lodge. I am a BIG fan!

Saturday, July 11, 2015

Bought what was supposed to be a 10.25" skillet over the phone from a national seller. Received a 10" / 25.4 cm skillet item #P10S3 /F4708. The cast iron lid is the 10.25 /26cm and it doesn't fit. I don't even see the 10" pan listed on the website. Hmmm. Need to return one or both.

Saturday, June 13, 2015


I bought this skillet after watching a TV program on cooking steaks a couple years back(pre-Lodge Logic days) and after learning how to season I've been rewarded with one of the best cooking tools in my pantry. Lots of videos on how to care for these gems nowadays, buy one and see what everyone is talking about. (This is for Lodge: Kick it up another notch and perhaps the last step- Machine the cooking surfaces of your ironware smooth. Atleast do a test run and see how the public reacts. More power to you Lodge!!)

Monday, April 27, 2015


I agree with the January 2015 user and have had a similar experience with my Dutch Oven, which has been a frustration with me and pain in the neck to try and make usable. Ever since Lodge began pre-seasoning, their quality has gone down. Typically, most cast-iron aficionados are happy to season their own cast-iron, but it appears that Lodge has tried to reach a wider market. I have seen YouTube and other How-Tos demonstrate how to strip, sand and properly custom season these LodgeLogics, which can be an option. Kudos to Lodge, however, for allowing these low reviews of their products.

Monday, April 13, 2015


Great skillet, nice and heavy for heat retention, solid, will last a lifetime or more. I always scrub my lodge cookware with steel wool and re-season them before using as I find the pre-seasoning isn't that great. I suggest a stovetop seasoning session as opposed to the oven method which takes more energy and more time. Do it like this: get the pan nice and hot on the stovetop, put about 1.5 tsp of lard or crisco in it and swirl it around. It will start smoking a lot, wipe it around with a tissue or towel to coat the whole inner surface, let it smoke a while, wipe again with the oily tissue/towel, repeat until you're bored, or up to 10-15 times. This will take you about 15 minutes max counting preheat time instead of 15 hours for 15 layers of seasoning in the oven. Contrary to a previous review and many others' opinions on the rough surface, it does not affect the pan's nonstick ability. Sorry to say that if you have problems cooking with the rough surface, it is you, not the pan. I can easily fry eggs all day long in a brand new lodge pan, with no sticking whatsoever, and with only about 1/2 a tsp of butter, as long as I've applied a few coats of my own seasoning (I have never tried doing it on one without my own seasoning, so I can't say if it is possible or not).

Friday, April 3, 2015


seasond with bacon and rubbed with olive oil on middle heat electic stove. works already perfect on the 2nd day of purchase. fried egg does not stick, sausages are perfect and the best and crunchiest bacon i was ever able to make. this is the cheapest pan i own, and by far the best one. all my quality non stick and stainless steel are more expensiv. the surface is far smoother then the one from a famous french company, and gives no problem at all. cant wait to bake in it... only problem: cant brew coffee

Friday, April 3, 2015


I have an extensive collection of Lodge cast iron products and they are the best by far. The pre-seasoned cast iron skillets and griddles are the best cookware to use on the cook top for any non-acidic foods, bar none, and I've been using them almost every day since 2009 when I bought my first ones, the 10" and 12" skillets. The factory pre-seasoning is just a starting point and helps keep them nice out of the box and gives you a good foundation to build on. The more you use them, the more you season them, the smoother, slicker, and the better they get! For those experiencing "sticking" problems, give these heavy wonders time to heat up evenly and lower your heat setting a little. One huge bonus that needs to be highlighted, the seasoned cast iron is made in the USA and I felt like I could trust the product and the raw materials Lodge uses to make these. And you can't say that for a lot of competing products - look around for yourself. Home run Lodge! I hope people continue to discover these great products and that you remain profitable for decades to come!

Monday, March 30, 2015


Bought this one for a camping trip. It was great right out of the box. No seasoning require. Brought it home, rubbed it with a bit of oil and it was right back to cooking. Will be buying more.

Tuesday, March 10, 2015


I purchased one of these from the Lodge website several years ago and it worked great, right out of the box. No problems with sticking (no, it's not Teflon, but doesn't require a lot of fat, either). Wonderful for frying, sauteeing or baking cornbread. To me, it compares well with the "antique" pan handed down in my husband's family. Affordable, too. Buy one!

Saturday, March 7, 2015


Love it! Recently purchased a new skillet after my wife sold ours years ago. Have had zero issue with the non stick surface, it's the go to in the kitchen

Sunday, January 25, 2015


Purchased this brand new, and anything that touched it would stick. I have cooked on cast iron my entire life, and never had the trouble this thing gave me. I reasoned it many times over, yet it still cooked so poorly I could not use it. One night after trying to simply pan fry chicken in the thing I tossed it in the trash, grease, chicken and all. I will NEVER buy another new Lodge skillet. These things have a rough surface and nothing you do to them will make them cook like traditional cast iron. I have 2 vintage Lodge skillets that are smooth and they both cook flawlessly. These were passed down through the family, and I stripped and reasoned them when I acquired them, and they have been phenomenal. Like all things new, things just are not made the way they were years ago. Companies cut production costs, and the consumer pays in the end, while they continue lining their pockets. If you want a good skillet, try searching around for a good auction or something if you get my drift. These newly made skillets are just awful!

Tuesday, December 30, 2014


I bought this pan some 5 months ago, seems we do not make these in the U.K. now and I din't want any Chinese rubbish. Well, this is brilliant, fries chicken & quality beefburgers like a dream. Very versatile, you can bung it in the oven too.. Good quality but be sure to season it well.


View 100% HB$ Deals terms & conditions
100% Good
Total 0 persons submitted
Excellent(100%)
Good(0%)
Poor(0%)
You can submit review too.
PriceUS$61.35 Lodge 10.25 inches Cast Iron Skillet Sales Discount Shopping.