Lodge Enameled Cast Iron Casserole 6 Qrt Lagoon
SKU: EC6D38
Lodge 6 Quart Lagoon Enameled Cast Iron Dutch Oven.
A flawless pairing of form and function, the Lodge Enameled Dutch Oven is a classic way to both prepare and serve memorable meals.
The 6 quart capacity is perfect for pot roasts, scrumptious stews, or a large batch of beans.
Features
Broil, braise, bake or roast in the oven up to 500° F
Sauté, simmer or fry on any stovetop
The right tool to marinate, refrigerate, cook and serve
Unparalleled in heat retention and even heating
Smooth glass surface won't react to ingredients
Rims are black matte enamel, cooking surface is off-white enamel
Stainless steel knob
Great for induction cooktops
Enameled cast iron, with stainless steel knob.
Full color, cake box style carton, in English, Spanish and French.
Packed with Use & Care booklet in English, Spanish and French.
Made in USA.
The following use and care for Lodge Enamel will keep your cookware in excellent condition for years to come.

What is Porcelain Enamel On Cast Iron?
After the iron cookware is cast in the traditional method, a glass particulate called "frit" is applied. This is all baked in ovens between 1200 and 1400ºF, causing the frit to transform into a smooth porcelain surface that is bonded to the iron.

Things to Know Before You Cook
Wash and dry cookware before first use. If cookware includes rubber bumpers, set aside and keep for storage.

The porcelain (glass) finish is hard, but can be chipped if banged or dropped (not covered by warranty). Interior protection must be used to prevent chipping if cookware is stacked.

There is no exposed cast iron on your enameled cookware. The black cooking surfaces, pot rims and lid rims are matte porcelain.

Use on gas, electric, ceramic, and induction cooktops. Always lift cookware to move.

Bake or broil in any conventional or convection oven. Stainless knobs and cookware are oven safe to 500°F.

The heat retention of cast iron and the benefits of porcelain combine to perform many cooking techniques, including sautéing, frying, searing, braising, stewing, roasting, broiling and baking.

Porcelain enamel is resistant to acidic and alkaline foods and can be used to marinate and refrigerate.

Do not use in microwave ovens, on outdoor grills or over campfires.

For added longevity, pre-heat and cool your cookware gradually.

Use oven mitts to protect hands from hot cookware and knobs. Protect counter tops/tables by placing hot cookware on trivets or heavy cloths.

Let's Cook!
Cast iron has superior heat distribution and retention - evenly heating the bottom and sidewalls of the vessel and across the lid.

Use vegetable oil or cooking spray for better cooking and easier cleaning.

Low to medium heat when cooking stovetop provides best results due to natural heat retention of cast iron. Do not use high heat.

To sear, use skillet or grill pan. Allow cookware to come to medium heat. Brush cooking surface and food surface with vegetable oil just before introducing food into the pan.

Do not heat an empty Dutch oven or covered casserole.

Use wooden, silicon or nylon utensils. Metal can scratch the porcelain.

The heat retention of cast iron requires less energy to maintain a required temperature. Turn the burner down to accommodate.

When on a stovetop, use a burner nearest in size to the diameter of the pan bottom to avoid hotspots and over-heating of sidewalls and handles.

Caring for Your Lodge Enameled Cookware
Allow cookware to cool before washing.

Although dishwasher safe, hand washing with warm soapy water is recommended to preserve the cookware's original appearance.

Citrus juices and citrus-based cleaners (including some dishwasher detergents) should not be used, as they can dull the exterior gloss.

If necessary, use nylon pads or scrapers to remove food residue; metal pads or utensils will scratch or chip porcelain.

Remove slight stains by rubbing with dampened cloth and baking soda. For persistent stains, soak interior of the cookware for 2 to 3 hours with a mixture of 3 tablespoons of household bleach per quart of water.

To remove stubborn baked on food, bring to a boil 2 cups of water and 4 tablespoons of baking soda. Boil for a few minutes then use nylon or wood scraper to loosen food.

Dry cookware thoroughly before storing.

Loose knobs? Tighten the screw. Be gentle, it's glass!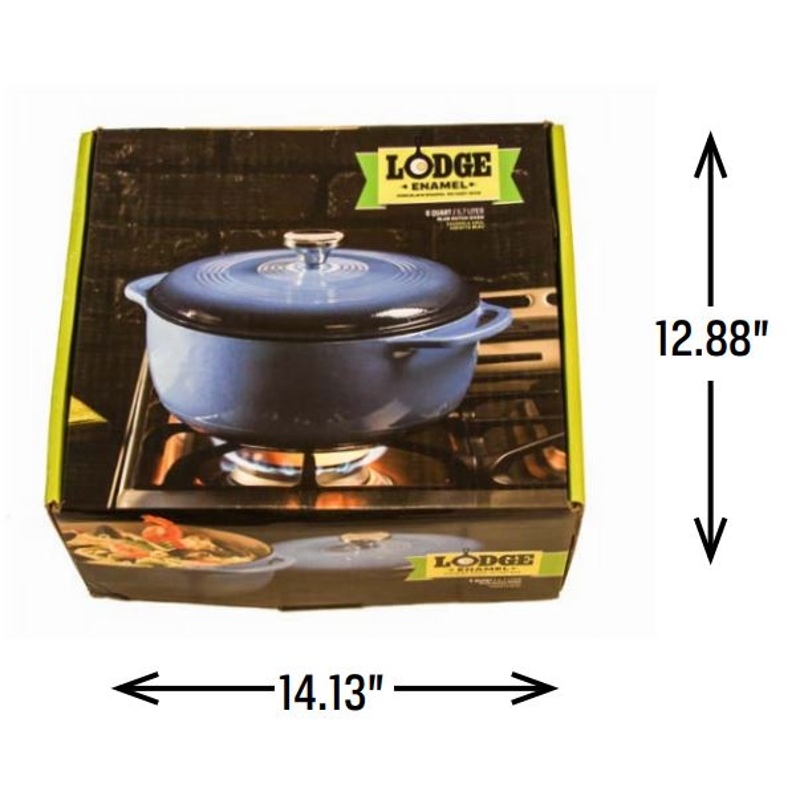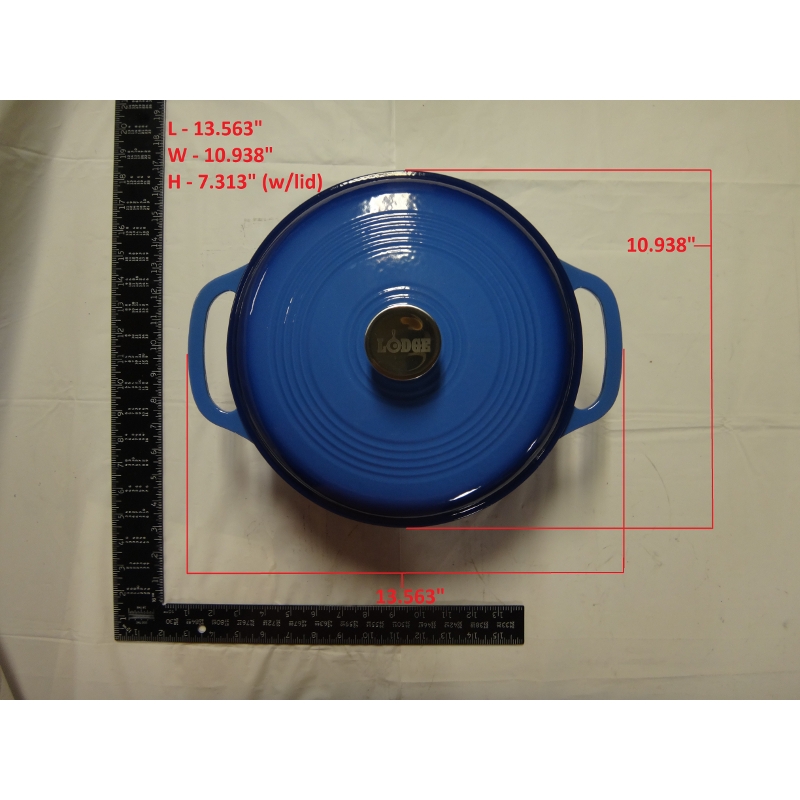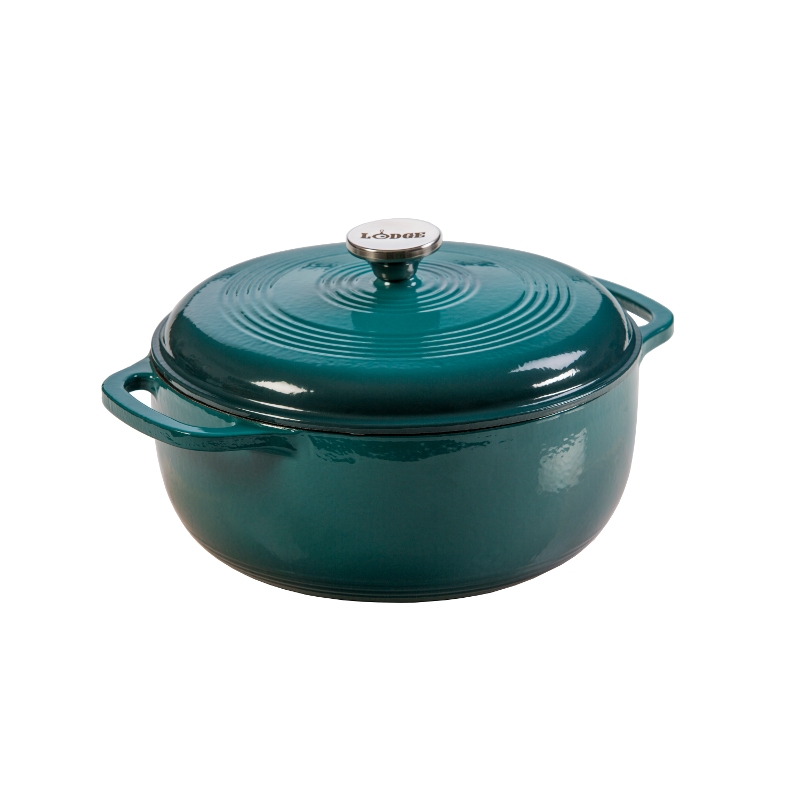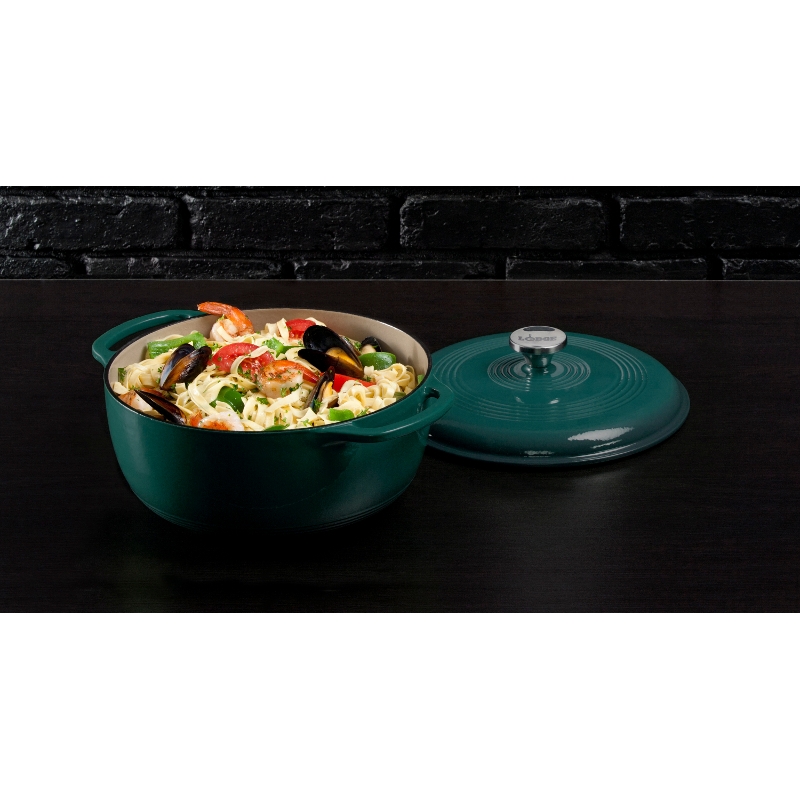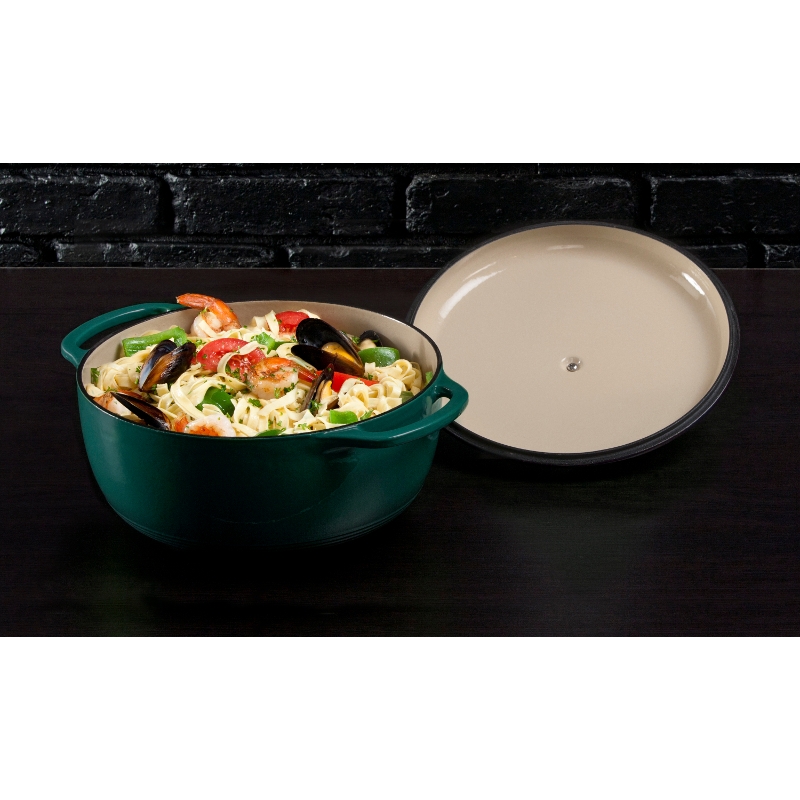 Review
Saturday, February 3, 2018
Laurelei


Bought this in the Indigo Blue. Beautiful right out of the box, great for that mean you make on the stove with bits of this and that which grows as you make it from left overs. Throw it in the oven next and top with cheese which crisps up yummy on the edges - and every one thinks you are a kitchen goddess. This pan won't let you down and cleans wonderfully. Put this on the table in the dish you cooked it in and food stays hot hot hot, and flavor and texture are retained.
Wednesday, November 4, 2015


I've had my 6qt dutch oven for several years & its by far, one of my favorite pots! It always cooks evenly, and the food tastes great. It has held up GREAT under consistent, intense use!
Monday, November 2, 2015


Just bought one of these last week and couldn't be happier! One of the great features is that the sides are rounded. Makes it a bit like a French "saucier". Prevents burnt bits from collecting in the corners where they can't be dislodged with a wooden spoon. So far I have made a "Daube de Boeuf" (a French style beef stew) and a "Coq au Vin". Dear hubby says they were the best ever, I think it's because no burnt bits became part of the stew and the pot comes out spotless as nothing is burnt onto the bottom. Far better than my Le Creuset which might find its way to the next garage sale!
Saturday, October 3, 2015


By far my all time favorite cooking pot. Be careful not to drop it, the enamel will chip around the rim. Still works great!
Wednesday, August 26, 2015


I have used my mother's enamel cast iron dutch oven for years, so I decided to get a Lodge for myself. I have a few other brands, including the expensive French brand, but I wanted a Lodge for my own. Guess what I did not notice on the website? The fact that it is made in CHINA. Lodge prides itself in being an American company, yet it outsources production to CHINA? Lodge screams American company, yet this dutch oven is made in China. Lodge, I expected better than this.
Wednesday, June 17, 2015


I purchased my 6qt 4 months ago I love it except for the 2.5 inch crank in the enamel on the side at top I have taken extra care in use no metal no banging and no dropping never heated empty and washed when completely cooled and with soap and a cotton dish cloth
Saturday, May 23, 2015


OxiClean is by far the best way to clean the stains on the ceraminic coating!! Thanks to the previous reviewer! We love this Dutch oven!!!!!
Thursday, May 21, 2015


We have enjoyed our 6 quart dutch oven for several years. Recently a large flake of porcelain came loose inside on the bottom. My wife says she has never bumped it, stacked or abused it. we're disappointed with the durability
Saturday, February 21, 2015


We've had our 6 qt. Dutch oven for over a year now and we love it. Handle with care though because the ceramic coating can chip off on the top around the rim where one has a tendency to hit the rim with whatever utensil you are using to shake clean. I found out the hard way because I am so used to doing this with most of my other pans/pots. Also, I found out the best way to clean when the white becomes discolored is to use OxiClean. Fill the Dutch oven to the top with hot water. Pour in about 1/2 - 1 cup of OxiClean and mix until dissolved. Allow to sit for 10 minutes or so. Do the same for the lid if necessary. Then make sure you clean with dish soap and dry. Sometimes I put a very thin coating of canola oil to the bottom of the pot, it gives it a nice sheen. This is one of my favorite pots because it cooks on stove top and in the oven. The cast iron holds heat so well and cook evenly. LOVE THIS.
Thursday, February 19, 2015


We loved our Lodge cast iron, so decided to try the enameled line when we were in the market . We've not been disappointed! Performs every bit as well as Le Crueset at 1/3 of the price. The 6 qt. size is big enough to bake loaves of dutch oven bread (super-crispy crust!), cook chili, or roast a young chicken, We have a smaller version, too, that we use more frequently b/c we're just two people, but occasionally we run into a dish that calls, for example, for several pounds of sliced onions or leeks that need to reduce, and while the finished product may be 3-4 qts., you cannot cook the full batch in that size. My only caution is *read the instructions and follow them*! For example, while enamel is glass, and ostensibly you can use metal utensils, it will mark the pot with gray lines that do not come off, and you also risk chipping the edges. Additionally, we stack-stored our pots without a buffer, and I've found after a year, there are tiny rivulets of rust running along the rim under the enamel, which I assume is from very small exposed areas of the matte-enamel rim that has been cracked by the stacking. This is not a defect, or poor workmanship - this is "user error", so take the instructions seriously!
Friday, December 26, 2014


Love this dutch oven. Its used so frequently it often doesn't make it into the cabinet and I got a second so I could have 2 on the stove at the same time. The size is perfect for everything from a stew to a roast and clean up is a breeze. It performs as well as the pricier brands and allows support for an American company
View 100% HB$ Deals terms & conditions
100% Good
Total 0 persons submitted
Excellent(100%)
Good(0%)
Poor(0%)
You can submit review too.
PriceUS$263.67 Lodge Enameled Cast Iron Casserole 6 Qrt Lagoon Sales Discount Shopping.