AIRSIM - Global Wifi Roaming VPN Prepaid SIM Card
100+ Countries from US$1/Day

Urgent collection at Menara UOA Bangsar KL above Bangsar lrt or Mont Kiara.
FREE Facial Mask + FREE RM10 voucher from 28Mall.com


AIRSIM is a special SIM card that combines Soft SIM and Over-the-AIR (OTA) technologies. When you are using AIRSIM abroad, our system will assign a suitable SIM card to your AIRSIM according to your location. The process takes about 3 minutes only, and you can have access to the internet. You do not need to pay the expensive roaming charge, or spend time on buying local SIM cards.

AIRSIM is reusable, if you have purchased the suitable data package for your destination before the journey, you can enjoy the data service immediately upon your arrival. Simply with one AIRSIM card, you can enjoy data service in more than 100 countries.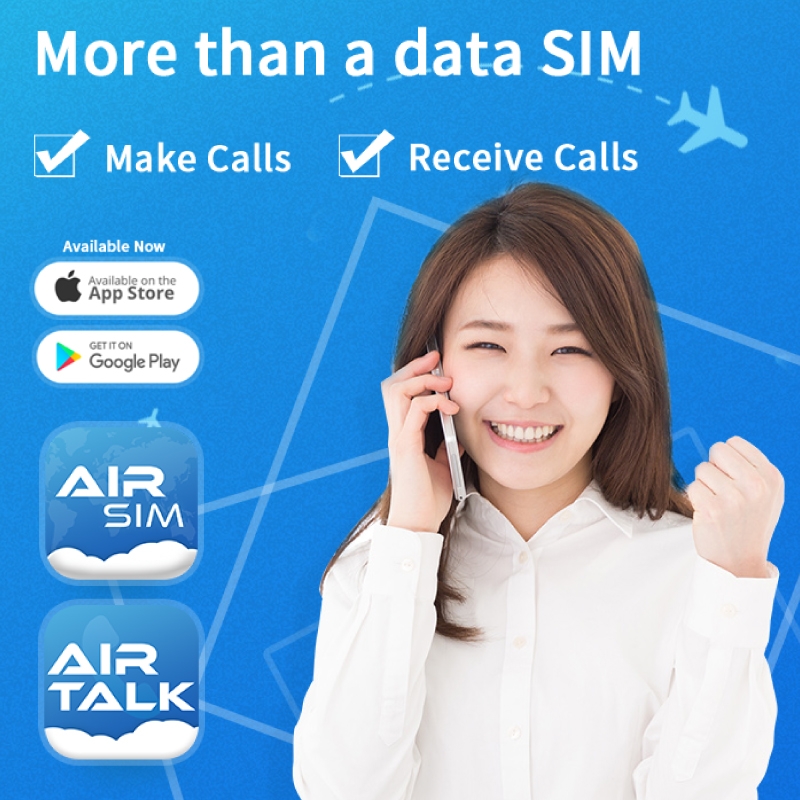 AIRSIM User Tips

How to use AirSim Global Wifi Sim For IOS/Android

AirSim Setup Guide
AirSim Global Wifi AIRTALK Set Up Guide
1. If you have purchased a Prepaid AIRSIM card, please remember to purchase a data package in our website or Mobile App AIRSIM ROAM before use.

2. Upon arrival of your destination, insert your AIRSIM into the mobile phone and wait for 3 minutes, AIRSIM will transform into a local SIM.

3. During these 3 minutes, the signal bar will change from having signal to no signal. In a short while, there should be a mobile operator name and signal displayed again, you can try to use the data service by then.

4. If you cannot use the data service, please restart the mobile phone again, and switch ON/OFF flight mode once. AIRSIM will search for the network again. Please make sure the APN setting is correct.

5. iPhone users please remove any "Description Profile" that might have been installed from previous Telecom Operators, as it affects the auto APN function.
Go to [Settings] > [General] > [Profiles & Device Management] > "Delete"

6. For Dual SIM handset users, please insert AIRSIM into SIM Slot 1 and make sure the data service is assigned to SIM 1.

7. The reception signal at the border is complicated. You are recommended to use AIRSIM after leaving the border.

8. If you still cannot use the data service, please restart the mobile phone, and switch on / off flight mode once.

9. If you cannot connect to the 4G network (if applicable), please go to setup, in mobile network, select 3G and wait for about 10 seconds, then switch back to 4G network. This allows your mobile phone to re-acquire 4G bands at a new location.

10. If the mobile phone cannot connect to the network, please try to take out the SIM card and insert again. The SIM slots in some dual SIM handset support different frequency bands, please insert AIRSIM into another SIM Slot and try again.

11. AIRSIM is reusable. You can purchase data service via our Mobile App AIRSIM ROAM before your trip next time.

12. All purchased data packages can be used from 14 days before the selected effective date and within 30 days from the selected effective date.

13. Except for 24/48 Hours Data Package, the daily data usage time is from Hong Kong time (GMT+8) 00:00:00 to 23:59:59. There is no pro-rata calculation regardless of the activation time of data service. 24/48 Hours Data Package is a continuous 24/48-hour session starting from service activation.

14. The expiry date of AIRSIM will be extended 1 year automatically from the date of any purchase of data package. AIRSIM will be expired if you have not purchased any data package in 1 year.

15. If you have purchased fixed GB data package, upon usage finished, you can buy a new package from the Mobile App AIRSIM ROAM instantly. Upon purchase of a new package on the App, please go to "Valid Package", select "Use New Package". Then follow the instructions as indicated by dialing 00001 from your mobile and wait for 3min. (Call failed is normal), the new package will be activated.

16. AIRSIM works on unlocked mobile phones and tablets such as iPAD only, but not compatible with pocket WiFi device (MiFi). You can use data sharing (Tethering) on your mobile phone or tablet if applicable.

17. Most overseas mobile operators have Fair Usage Policy (FUP). You are recommended to disable the software auto-update function, and use free WiFi for activities that require high data usage.

18. You need to turn on data roaming function of your mobile phone in order to use AIRSIM at your destination. There is no roaming charge involved. However, whenever you remove the AIRSIM or switch to other SIM card, please remember to turn off data roaming function of your mobile phone in order to avoid unnecessary roaming charges.

19. For initial use, please insert your AIRSIM into your mobile phone, your AIRSIM is in normal and good condition if there is a signal received. Otherwise, we urge you to contact us by email or phone, so that we can mail a new AIRISM to you as soon as possible.

20. AIRSIM provides mobile data service, it does not support SMS.

21. With Mobile App AIRTALK ROAM, you can make calls to destination country and call back home, and receive calls from Hong Kong while you are overseas (Applicable to Hong Kong mobile numbers only).

View 100% HB$ Deals terms & conditions
100% Good
Total 0 persons submitted
Excellent(100%)
Good(0%)
Poor(0%)
You can submit review too.
PriceUS$18.52 Airsim Global Wifi Roaming Data Sim Card Sales Discount Shopping.