SKU:WEISEN-U_ Stomach_ Remedy_100
Brand:WEISEN-U
WEISEN-U Stomach Remedy 100 Tablets


- Made In Hong Kong
- Capacity

Effectiveness Of WEISEN-U

Indications
Hyperacidity, heartburn, feeling of discomfort in the stomach, feeling of fullness in the stomach, heaviness in the chest, belching (burping), nausea (retching, stomach nausea, hangovers and druken retching, etc.), over-drinking, stomach pain, promotion of digestion, indigestion, anorexia, over-eating.

Dosage and administration
Adult shall take 1 tablet 3 times a day after meals.

Packaging
100 tablets per sealed glass bottle.

Instructions
- The following persons should consult their physicians or pharmacists before taking the drug.
(1) Patients suffering from kidney failure.
(2) Patients currently under treatment or medication.
- Before taking the drug, you should:
(1) Strictly follow the dosage and administration instructions.
(2) Keep it away from children.
- After taking the drug, you:
(1) may suffer from constipation or diarrhea.
(2) should stop taking the drug if the symptoms do not show improvement after two weeks, and should consult your physician or pharmacist immediately.
- Storage:
(1) The drug should be kept out of reach of children.
(2) The drug should be kept in a cool and dry place without direct exposure to sunlight.
(3) The tablets should be kept in the original container to avoid accidental consumption and to ensure quality.
(4) Do not consume the white desiccants.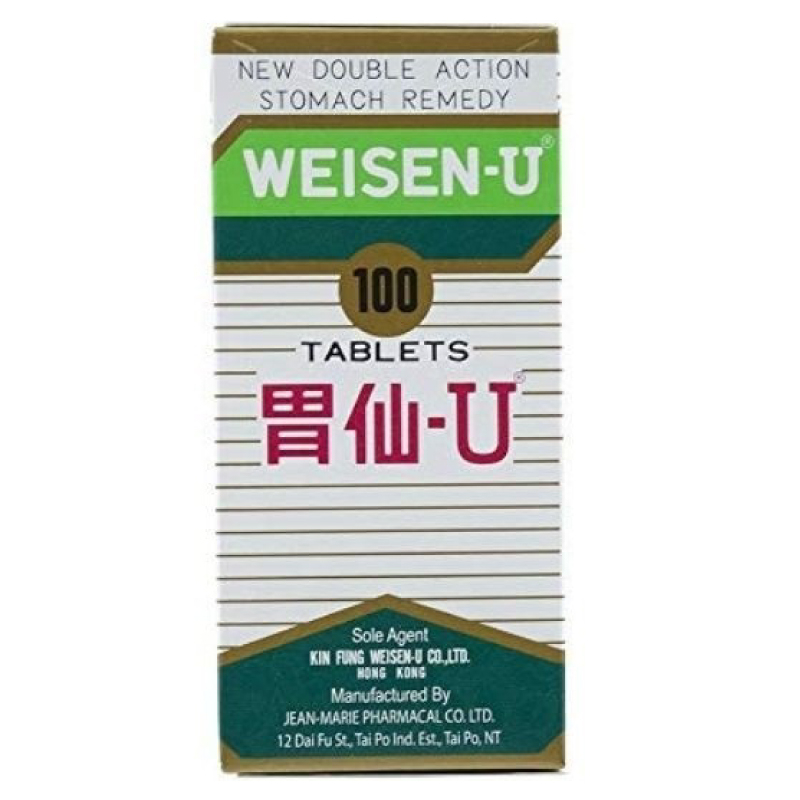 The products herein are genuine products from the original brands which have been purchased from distributors or retailers for resale here.
The photos and trademarks as shown in the photos are for the purpose of identification only and are the trademarks of the respective legal owners.
View 100% HB$ Deals terms & conditions
100% Good
Total 0 persons submitted
Excellent(100%)
Good(0%)
Poor(0%)
You can submit review too.
PriceUS$28.03 WEISEN-U Stomach Remedy 100 Tablets Sales Discount Shopping.